Experience the vistas of Puumala and Saimaa on a bicycle
You can go on short and long trips in Lintusalo and other parts of Puumala. The terrain is hilly but you will be rewarded with breath-taking views and healthy exercise. There are plenty of places to swim along the way. You can rent a bike from Nestorinranta and take a water taxi for the water crossings if the bike ferry routes or timetables are not suitable.
Images Jevgeni Jepryntsev / Nestorinranta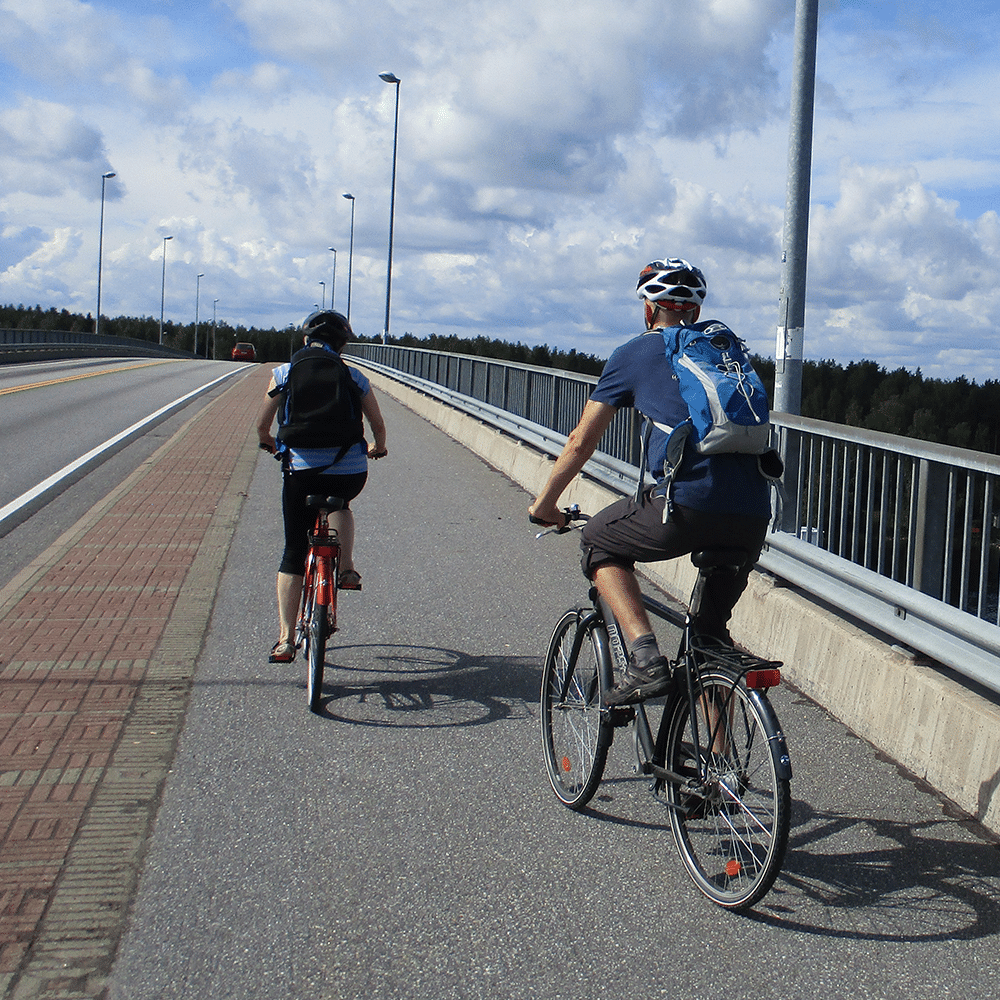 Puumala and Saimaa
Archipelago tours and bike ferries
The cycling routes near Lake Saimaa are improving all the time
In addition to the Puumala archipelago route, you can cycle the longer Lake Saimaa archipelago route or shorter stretches in stunning lakeside scenery. If you head towards Mikkeli, you can follow the "geo route", which goes past attractions such as the Astuvansalmi rock paintings. There are plenty of good cafés, restaurants and accommodation. The water crossings along the Puumala and Lake Saimaa archipelago routes are handled by bike ferries. Visit the Matkahuolto online store, for timetables and tickets, and also take a look at the Saimaa Cycling website. This provides additional information on the routes.
Contact us, and we will be glad to help you plan a cycling holiday.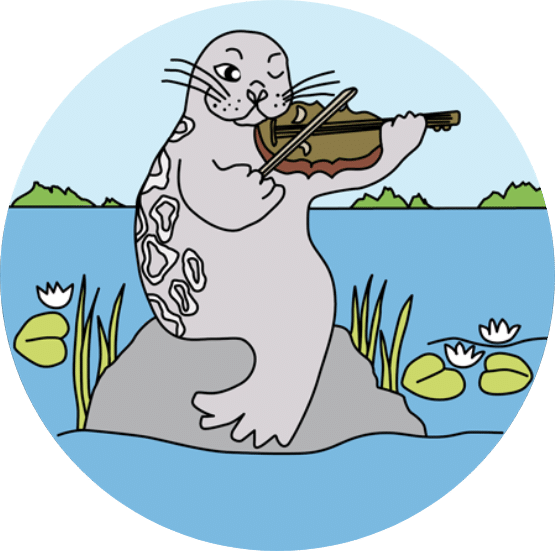 All of this is on the Puumala archipelago route:
60 – 80 km of cycling
10 km ferry trip, 40 minutes (on a ferry that also takes bikes)
Connecting ferry trip, 360 m, 2 minutes (on a ferry that also carries cars)
An archipelago road, 20 km
Causeways, bridges, beaches, cliffs
Stories about Nestori and the rare Saimaa ringed seal, Nestorinranta
The Säkkimäki lean-to
Liehtalanniemi museum farmstead, Saimaa Geopark
The award-winning ringed seal trail, Saimaa Geopark
Sahanlahti terrace restaurant and Tupavuori, Saimaa Geopark
Pistohiekka, Saimaa Geopark
Rakokivet, Saimaa Geopark
Beautiful parish village
Scenic cafés and restaurants
The Hurissalo village shop
Map of the route
PUUMALA ARCHIPELAGO TOUR BY BIKE – SLEEP AT NESTORINRANTA
This route is one of the most beautiful cycling routes in Finland. The road passes by many interesting places along the coast of Lake Saimaa. You will find several bridges and causeways, as well as one short and one long ferry trip, along the route. The cycling distance is 60 km's. There are also many restaurants, cafes, geosites of Saimaa Geopark and other services on this route. You will be accommodated at Nestorinranta.
1st day
From 4 pm booking to Nestorinranta, accommodation, a supper by your own – or in the barn cafe, if you chose a half board
2nd day
Breakfast in the barn cafe
If you prefer, a lunch (extra charge) in the pancake bar before the start
12 start on the bike ferry Norppa II, Nestorinranta boat shore, duration 40 minutes
Cycling from Hurissalo towards Pistohiekka and onwards to the parish village
Along the way, you can stop off at the Saimaa Geopark attractions, cafés, and restaurants and even go swimming in some of the beaches on the way
In the evening you can have a supper in the barn cafe (half board) or use the summer kitchen or BBQ to make a supper of your own.
3rd day
Breakfast in the barn café, a short paddling trip on the lake on your own (if the weather is not too windy). If you prefer, a lunch (extra charge) in the pancake bar and goodbyes.
Basic price includes
Accommodation (2 nights) in a twin room Mari or Ville
Bed made ready and towels, final cleaning
Shared bathroom and summer kitchen
Breakfast in both mornings
Yard sauna, heated by yourself
A possibility to use BBQ and camp fire place
An Indian canoe for 2 hours
A ticket for bike ferry
Availability
At the basic price or, depending on your choice, with an additional fee, from May to September during the operating hours of the bicycle ferry
As an additional paid service (at least water taxi) also at other times of the season of melt water
Location Nestorinranta, Lintusalontie 1661 A, Lintusalo, Puumala
Min.–max. number of people 1–5, or 1–20 when the bike ferry is in operation
Basic price from € 131 /person in 2023
Available for extra price
Accommodation in a single room, studio or cottage
Half board (2 breakfasts and 2 suppers)
A bike, regular or an e-bike
Beach sauna with jacuzzi
A watertaxi Nestorinranta – Hurissalo
Spend more days and experience more
You can also use more days to your trip. There are many things to see and on the way there are several places where to accommodate.
We'll be glad to help you to plan a marvellous trip for your holiday.
Take contact
Bike ride to the landscape of the Saimaa Geopark
MIKKELI – RISTIINA – PUUMALA – ANTTOLA – MIKKELI
This is more than just a bike ride. Along the way, you can take a guided boat trip to the Astuvansalmi rock paintings and see the wild and beautiful side of the City of Mikkeli, such as the Urpola rapids, Kaihunharju ridge and lakes, and the giant's kettle. Along the way, you will take to the water three times, including aboard the M/S Norppa II, a ferry that connects sections of the Puumala archipelago route. You will hear plenty of interesting and sometimes tragic tales, and you may spot a rare Saimaa ringed seal. Of course, food and sauna have been taken care of.
You can make this trip under your own steam or have a guide with you. Read more in this PDF file and on the Best Guest Finland website, a sustainable travel service that can book your trip for you. More information also info@nestorinranta.fi, tel +358 40 510 62 08.
Other cycling locations
Shorter cycling trips can be taken from Nestorinranta to, for example, the Säkkimäki lean-to, the Telkonniemi giant's kettle or Niinisaari Island, where you can visit a winery, smithy, farm museum and gallery, and enjoy exquisite food in archipelago restaurant.
Säkkimäki lean-to
Highest point in the archipelago
Excellent view of Lake Saimaa
Lean-to and campfire spot, logs
Signpost "laavu, 300 m" on Lintusalontie in Liimattala
Approx. 7 km from Nestorinranta.
Telkonniemi giant's kettle
A natural formation created by rocks that have been moved around by water over millennia.
Signposts lead to the location from Repolantie road in the southern part of Lintusalo.
Approx. 10 km from Nestorinranta.
The archipelago village of Niinisaari
Flea market (Lintusalontie 198)
open in summer
near the ferry
about 15 km from Nestorinranta