From a small farm to a holiday resort
Nestorinranta is a small family business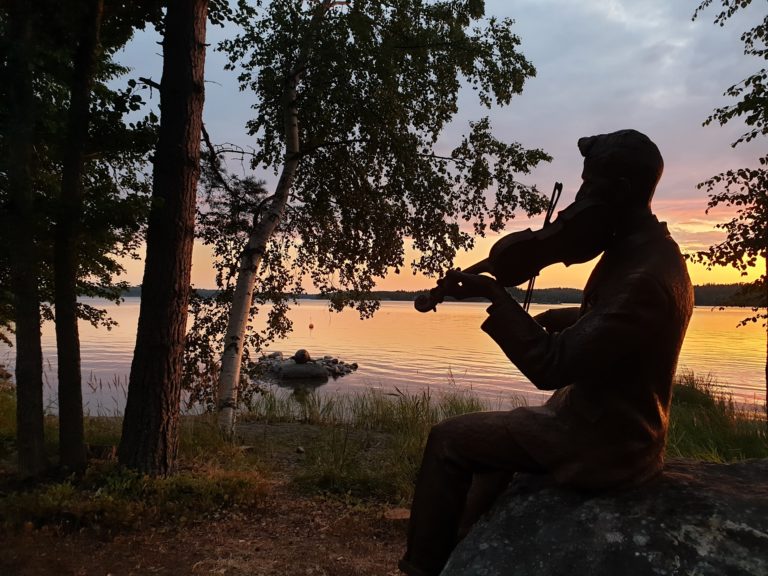 Nestorinranta came into being in 2010. The year before, Riitta and Matti Viialainen had fulfilled their long-term dream and moved to Matti's homestead from Helsinki. Matti had found a job in Mikkeli, and Riitta was a journalist who was able to work freelance.
The cycle of nature set the pace
Matti's homestead is a small farm in the Puumala archipelago in Lintusalo. There are 2 hectares of fields and 22 hectares of forest. At best there were 3-4 cows, a few sheep, a pig and chickens. Matti's parents Ville and Mari were the last farmers. The last cow left the farm in 1981.
Mari and Ville lived according to the cycle of nature. In summer they were busy working in the fields, in winter they concentrated on maintenance work and handicrafts. Mari wove carpets on a loom and Ville fixed fishing nets. Ville also did forest work and Mari took care of the cows and other livestock.
There was also time to rest. Below is a painting of Mari and Ville painted by Riitta's mother, Anita Ahmavaara.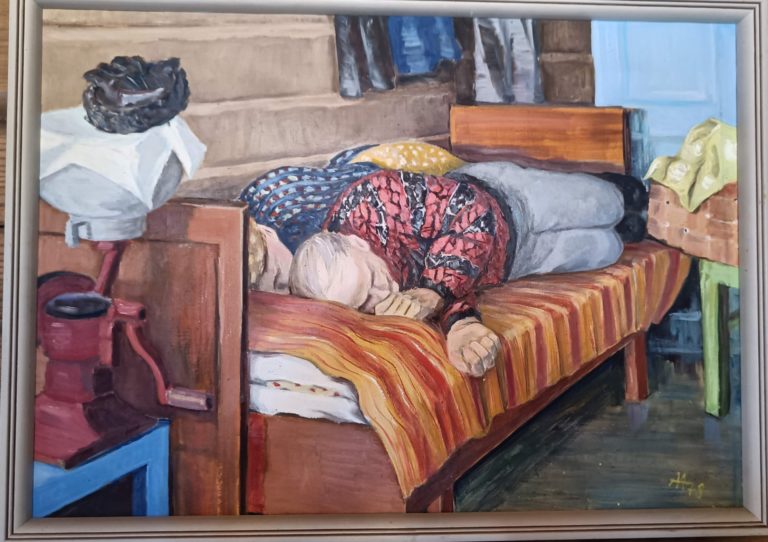 In the old days each villager specialised in some service in the village: for example, Ville was the village cobbler, barber and made cured pork. Mari was the village seamstress and Nestori was the village blacksmith.
Nothing was wasted back then
In the old days not much was spent and almost nothing was thrown away. The clothes were durable, but when they eventually wore out, they were used to make carpet weaves.
Electricity was not used for heating or the water pump, only for lighting, radio, television and stove. Water was carried from the well. Wastewater was either dumped in a bucket on the vegetable garden or absorbed into the ground.
For a long time, there wasn't even a refrigerator. In summer milk and other perishable foodstuffs were put into a cold well. Electricity came to Lintusalo in 1966. Before that, light was provided with gas lanterns and rushlights.
For heating, there was a large baking oven in the middle of the house, a wood stove, a small fireplace and a stone wall that radiated heat towards the rooms. Firewood was obtained from the forest. Bread and pastries were baked in the oven and food was prepared on the stove. Even today, the house is heated mainly with wood, although the fireplaces have had to be renewed.
The food was largely obtained from the garden, field, lake, forest and domestic animals (milk, butter, pork and lamb meat, eggs). The rest were bought from Lintusalo's own store.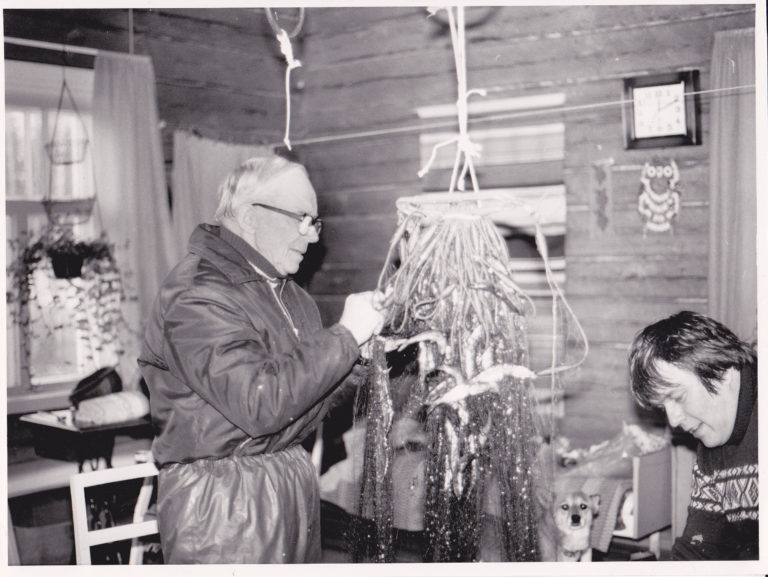 Above, Ville and Matti release fish from winter nets in a hut in the 1980s.
1.20 m thick natural stone walls were made in the barn. An air gap was left inside the wall, where smaller loose stones were placed. The air gap prevented the walls from freezing to solid ice in the winter. The floor was natural ground with some straw for the cows to lie on.
The cows and other animals warmed the barn with their own body heat, but composting of straw and manure radiated warmth too. The old barn was a "passive house", which did not need electricity or any other external heating energy. Cows' drinking water never froze and temperature stayed above 0C in Mari and  Ville's barn, even though it could be -25C outside.
Nestorinranta was created by chance
Matti and Riitta have continued to live according to nature's cycle on the farm, only the industry has changed to tourism. It's busy in the summer when there are a lot of tourists. In winter we are concentrating on product development, marketing and have some rest.
When Riitta's job alternation leave ended, she attended a meeting of the village association. It was there that she heard tourism entrepreneurs lamenting the lack of short-term accommodation in the archipelago. Matti and Riitta had just renovated the huts for their children, who were now adults, and extended the old main building.
As the children did not have summer holidays, Riitta began providing bed-and-breakfast accommodation in the summer. They also had a couple of boats sitting idle because Matti did not have time to use them, so Riitta began renting them out. And because Nestori had sung to the ringed seal on the shore of the farm, the company was named Nestorinranta ("Nestori's shore"), and Riitta began organising Nestori tours, describing the origins of the song, Nestori and the ringed seal.
There was so much demand for the services that Nestorinranta began making major investments in 2012. The work was completed (or so they thought) in March 2020. The last thing to be completed was the long-awaited sauna, hot tub, and 20-seater kota grill house.
However, that very same year, it became apparent that the investment would not end there. They still needed to build a new pancake bar, as the pancake kiosk had become too cramped for its purpose. The pancake bar was completed in spring 2021. At the same time, the beach was made more convenient for campers, boaters and cyclists.
And we have not stopped investing. A new rental facility was completed in time for summer 2022, along with a sandy beach for children and a 20 m2 glamping tent. A small caravan area will be built near the main building for the summer of 2023…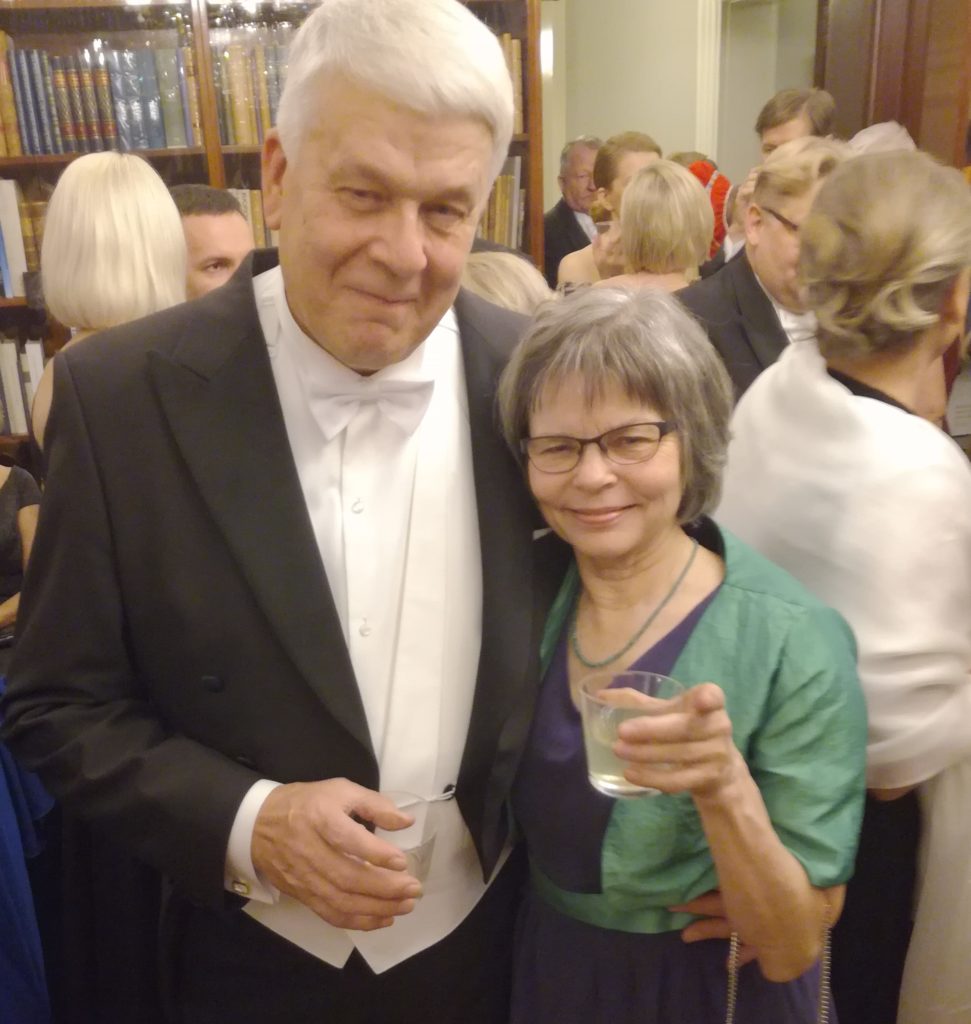 Matti and Riitta at the Independence Day celebration.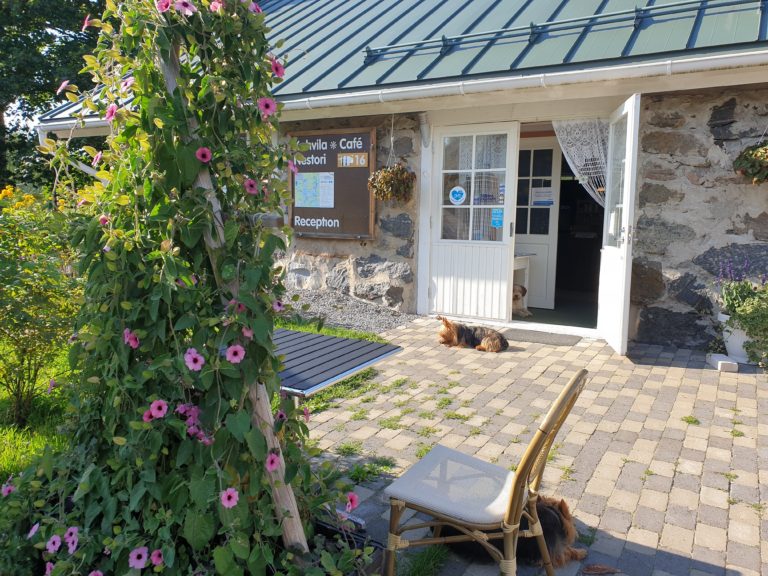 The photo above shows all three of our dogs. Do you find them?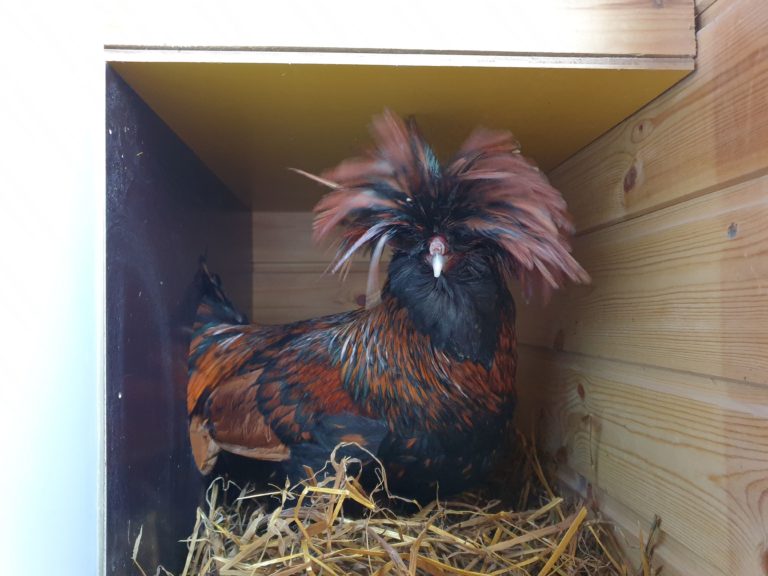 This is the most special resident of our chicken coop, the paduan rooster "Häiskä".
Sustainability and challenges
Here in Nestorinranta we respect the environment for many reasons. Our business idea is based on nature experiences which wouldn't be possible if the environment was ruined. We entrepreneurs live here and it wouldn't be nice to live in a poor environment. Protecting the environment is also financially reasonable and makes everyday life easier when you can be partly self-sufficient.
Sorting of waste
Nestorinranta has sorted waste and composted bio-waste throughout its existence (since 2010). Entrepreneurs have been sorting and composting since the 1990s. This is how compost soil has been obtained for the plants.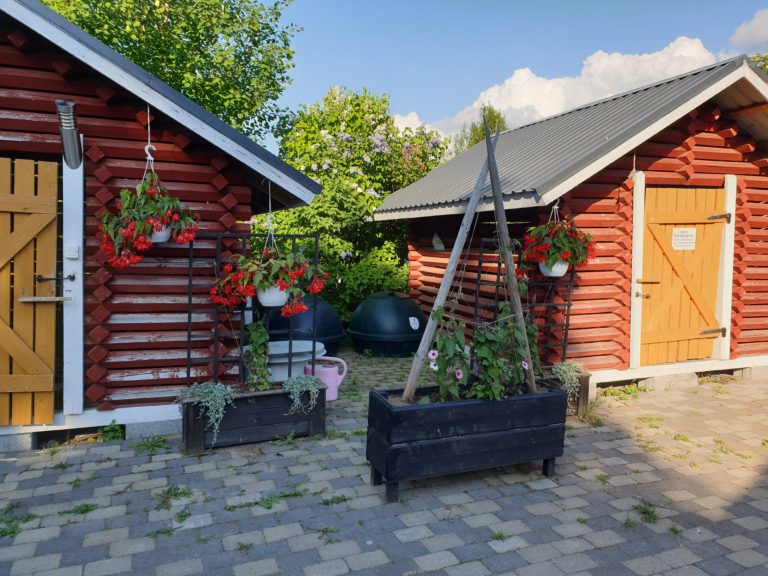 There are currently 16 composters in Nestorinranta in total: 6 at the main building, 2 at Nestori's cabin, 2 at Villa Hauki, 5 at the ferry beach and 1 at Kauppiaanranta. In addition, in Taru's cabin bio-waste is composted in a dry outhouse.
In the yard of the main building there is a waste recycling point with containers for cardboard, plastic, metal, glass, paper, bottles and cans, hazardous waste and mixed waste. Clean waste textiles are also collected and taken in sealed bags directly to the waste station in Puumala.
The cottages and the beach also have containers outside or in storage spaces for different types of waste, but some places don't have containers for all sorts of waste as we have in the yard of the main building. Every accommodation space has sorting bins for at least organic waste, mixed waste, bottles and cans.
There are 8 composting dry outhouses in Nestorinranta as you cannot use flush toilets during power cuts. Storms and thunder often cut off electricity. Power cuts will hopefully stop when the electricity network is renovated. There are also 8 flush toilets at Nestorinranta.
Household water comes from our own wells, and there is a small purification plant in the main building for waste water. Villa Hauki's toilet water goes into a closed tank and grey water goes into an absorption field. In the Kauppianranta cabin all wastewater goes into a closed tank. Nestori's cabin, Taru's cabin and the ferry beach do not have flush toilets, the grey water goes into the absorption fields.
Energy saving
The energy project 2022, supported by the EU and the state, was started in Nestorinranta. Air-source heat pumps were installed in the main building and Villa Hauki. At the same time, the double-glazed windows in the main building's dining hall were replaced with triple thermal windows.
In the spring of 2023 we will install 20 solar panels on the roof of the main building and 16 on the roof of the pancake bar on the beach. They will produce an estimated third of Nestorinranta's electricity needs.
In Kauppianranta  the oil heating was changed to a water-air heat pump at the turn of 2022-2023.
Taru's cabin is the most ecological of our accommodations. The cabin's electricity comes from a solar panel. The flush toilet is replaced with a composting dry outhouse. The washroom is a traditional sauna. The kitchen stove and refrigerator run on liquid gas. The cabin is supplied with gravity-based running well water. Wastewater (grey water) goes to the absorption field. The heating is provided by a fireplace and the firewood comes from our own forest.
Local food
Nestorinranta has its own vegetable and strawberry garden as well as fruit trees. We get a large part of the salads, onions, potatoes, zucchini and herbs from our own garden. Berries, apples, pears and mushrooms come from our own land or the forest. Only in bad berry and mushroom years do we have to buy them from other local producers.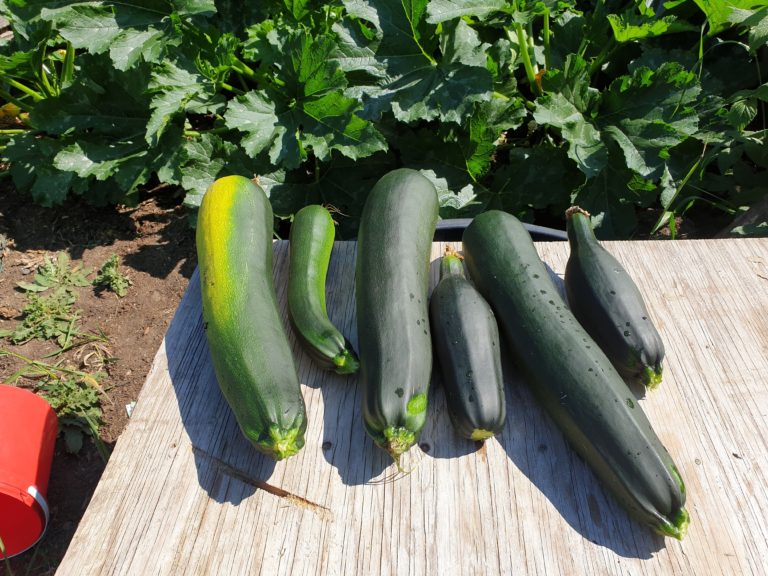 We use a lot of local fish, either caught ourselves or bought from professional fishermen. Our hard-working quail hens regularly lay eggs.
We bake sweet and savoury pastries ourselves, with an exception of the excellent Karelian pies, which we buy raw frozen from T & T Food in Juva. We buy rye bread and some mixed bread in a store or wholesale.
All the raw ingredients we use are domestic and many are produced nearby. For example, the breakfast porridge is made from unstabilised oat flakes from the Rapio mill in Juva, the rye bread is from the Suur-Savo bakery, the burger patties are from the Hinkkuri farm in Mäntyharju, and the garlic clove paste is from Mätön Sillä Sipuli in Ruokolahti. We buy rainbow trout from Puumala Salmon and smoked vendace from Kalakontti in Puumala.
We have never really accumulated food waste. The staff or the chickens eat what can no longer be offered to customers. Breakfast requests have been asked in advance from the beginning to avoid cooking too much. The same approach also will be applied to dinners that will start in 2023.
Endangered species
In Saimaa the particularly endangered species are the Saimaa ringed seal, Saimaa salmon and Saimaa char. The ringed seal population has grown well, but the situation of the salmon is difficult because they cannot reach their spawning grounds due to the hydroelectric dams. Fishing for wild salmon and char in Saimaa is now completely prohibited.
In recent years small power plant dams have started to be dismantled with the help of the government's Nousu program. Nestorinranta's entrepreneur, Matti Viialainen, who offers consulting services, has been involved in several such projects.
Nestorinranta has developed ethical guidelines for fishing for its customers in order to make fishing sustainable. The instructions have also been distributed to other tourism entrepreneurs in Puumala.
Matti has been participating in the protection of the ringed seal for ten years, e.g. as a nest counter around Northern Lintusalo. He has also participated in snow ploughing for ringed seals' nests.
The whole village helps
Puumala has good services for its size. Thanks for that goes to the abundant leisure population. Because of good availability, we can use local services for almost everything:
The Puumala laundry washes our sheets, the neighbour's Maatalousyhtymä Korhonen takes care of ploughing, some firewood and many renovations. We also buy firewood, tractor work, honey, gig work, etc. from other neighbours. Väri & Vapaa-aika Tiusanen takes care of our bicycles, Ari Martikainen maintains our kitchen appliances and Vene-Hietsu from Imatra looks after our boats. Kalevi Kondratjef sweeps our numerous chimneys.
In all these years construction and earthmoving work has also been organised by local professionals: e.g. Espit, Vesi ja Lämpö Ilpo Purhonen, Tomkon, Puutyöliike Keijonen, Teijo Keijonen, Asko Nurmi, Kaivuupalvelu Timantti and Maansiirto Backman.
Even art is local: our wooden animal sculptures are made by Leo Löppönen, who works in Puumala's Partalansaari.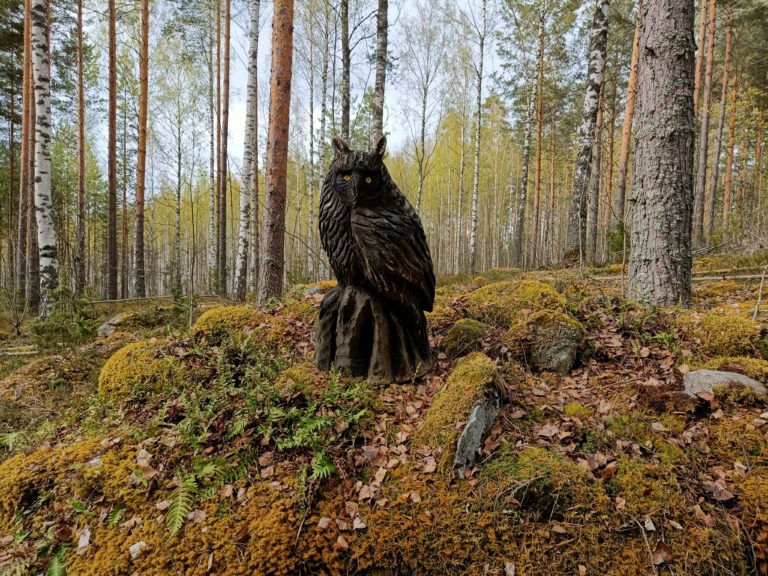 We cooperate a lot with other tourism companies. So far, we have been involved in three local business group projects where joint services have been developed. We are a member of Saimaa Coop, the Mikkeli region tourism association, Finish Entrepreneurs and Mara, the employer organisation in the tourism and restaurant industry. We are also a partner company of Saimaa Geopark.
Challenges
Nestori's pancake bar has so far used disposable dishes, because the bar is not heated in the winter and therefore a professional dishwasher cannot be placed there. The bar's kitchen only has a portable dishwasher, which is used to wash dishes used in food preparation.
We are sorting out the transition to washable plates and mugs. The light cutlery has already become washable and we collect it and take it to the kitchen of the main building to be washed. When the same happens to light plates and mugs, we can also collect them and use them again after washing.
We have 6 motorboats and one outboard motor, all fueled by gasoline. Lawnmowers and chainsaws also run on gasoline. Those cannot be converted to electricity or biogas any time soon. We also have one small electric outboard motor.
If you come up with something to improve in Nestorinranta, we will gladly accept suggestions 🙂 And if something bothers you, ask away: info@nestorinranta.fi
Riitta Viialainen