Common areas in the main building
The main building at Nestorinranta in the village of Lintusalo is surrounded by fields. It was built on a hill 900 metres from the shore. The main building is a former stone-built barn, and its interior was reconstructed in 2014.
The main building has toilets, a laundry room, two guest rooms (Orsi and Ylähuone), and the summer café and reception. In the grounds of the building are the guest cottages known as Mari, Ville and Vilja-aitta, the summer kitchen, a bike shelter, a bike servicing point, a children's play area, a henhouse, and a quail coop. At the end of the yard is a sauna, a composting toilet, and a barbecue shelter. The sheep pen is in the field surrounding the buildings, and the trails can be accessed from the road to the lake shore.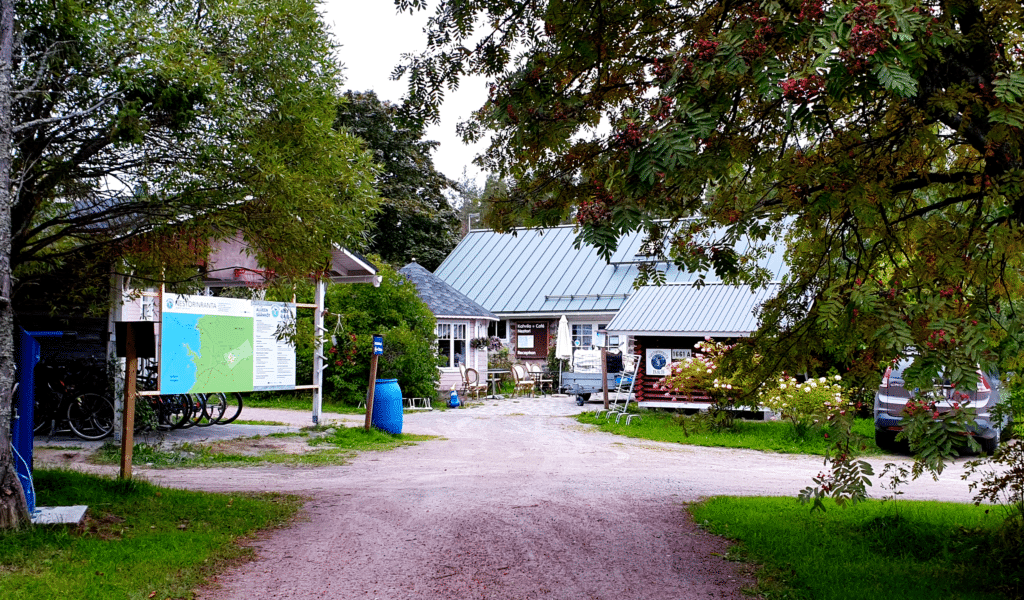 Services for guests
Guests staying in the cottages and rooms have free access to the main building's toilets, showers, summer kitchen, barbecue shelter, sauna (if they heat it themselves), drinking water, electricity, the bike servicing point, and parking spaces. The self-service laundry in the main building is available for a small fee.
Guests staying in tents, hammocks, caravan spaces, and boat berths also enjoy the same services, although there is a small additional fee for the summer kitchen and sauna.
In the summer, breakfast is served at the barn café for an additional fee. Guests are required to book no later than the preceding evening. Sheets, towels and final cleaning can also be ordered in the same place.
Information
Composting toilet behind the sauna
Waste recycling point:
Composter for organic (bio) waste
Newspaper
Bottles and cans with deposits
Mixed waste
Grill
Fish roaster
For a €1–2 fee, guests can rent a board for roasting salmon, a cast-iron pan, a shashlik (shish kebab) rack, and a coffee pan
SHARED FACILITIES AT THE BEACH
The beach is 900 metres from the main building on Lintusalo's western shore. The beach can be accessed by road and walking trails – and naturally also by boat or bike ferry.
Guests have free access to the toilets, the southern swimming piers, boat piers, sandy beach and changing room, barbecue shelter, campfire place, dishwashing and fish-gutting point, bike-washing place, boat-launching place, and parking spaces for the duration of their time on the beach or water.
The piers and sandy beach by the beach sauna are reserved for sauna users who have paid for the service.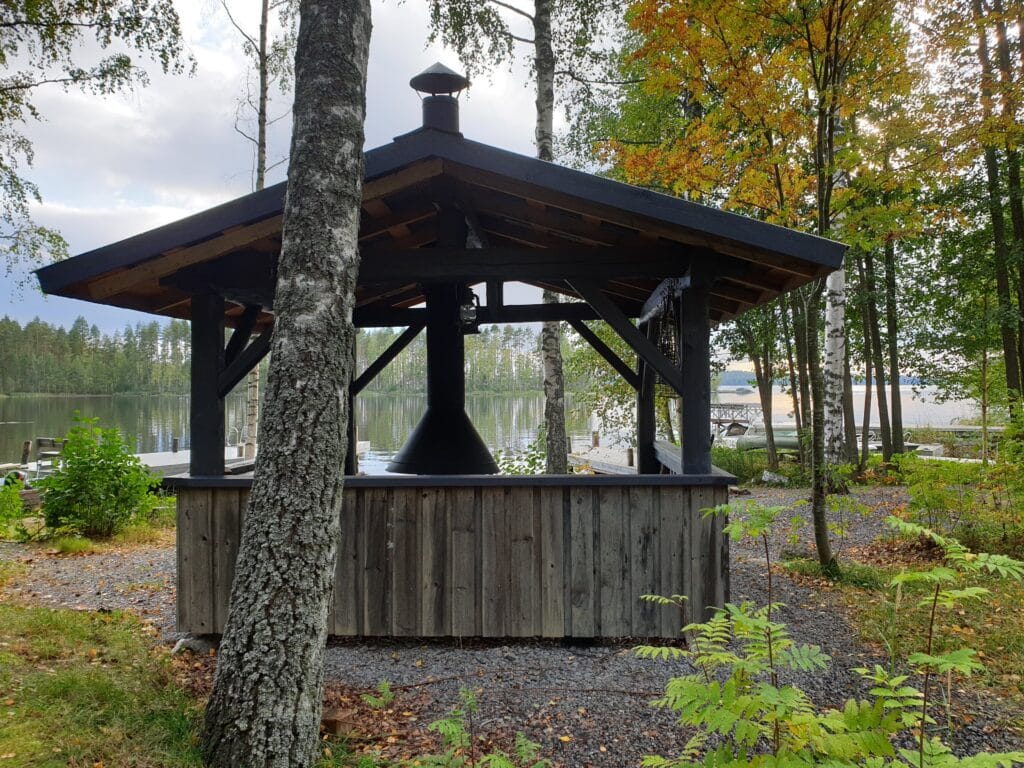 Information
Grilles for barbecuing
Sausage sticks
Beach sauna, subject to an extra charge
Kota hut, subject to an extra charge. Equipment:

barbecue with grilles, fish roasters, coffee pan, cast-iron pan, etc.
mini kitchen (freezer compartment, 2 electric hobs)
Changing room
Swimming piers
Fish-gutting table
Bike-washing place
Landing place for boats and canoes
Boat berths: 8, buoy berth: 1
Boat-launching place
Bronze statues of Nestori and the ringed seal
Pier for M/S Norppa II and M/S Rasti