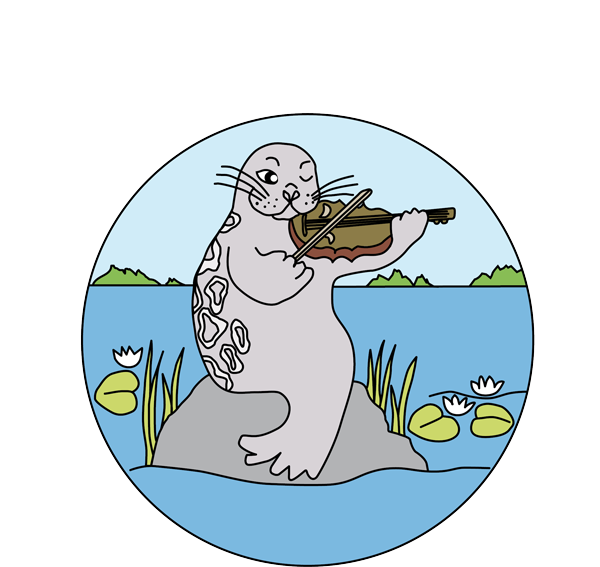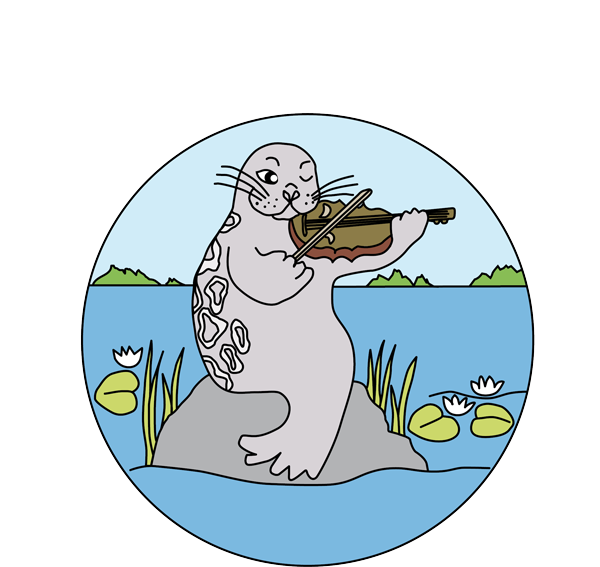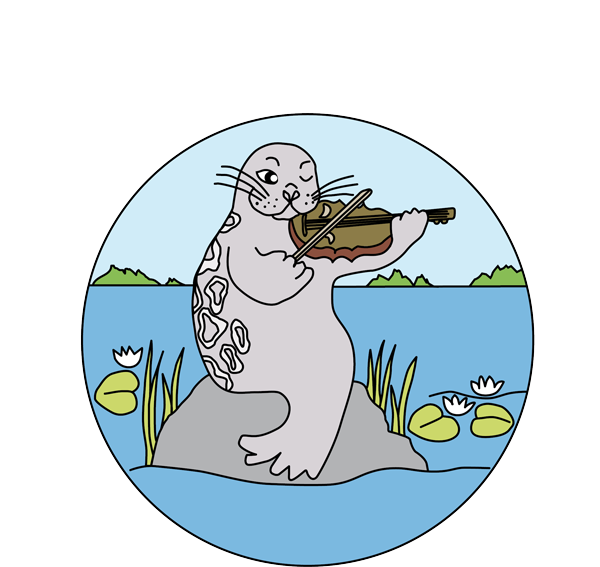 Experience the vistas of Puumala and Saimaa on a bicycle
You can go on short and long trips in Lintusalo and other parts of Puumala. The terrain is hilly but you will be rewarded with breath-taking views and healthy exercise. There are swimming spots in Pistohiekka and along the archipelago road.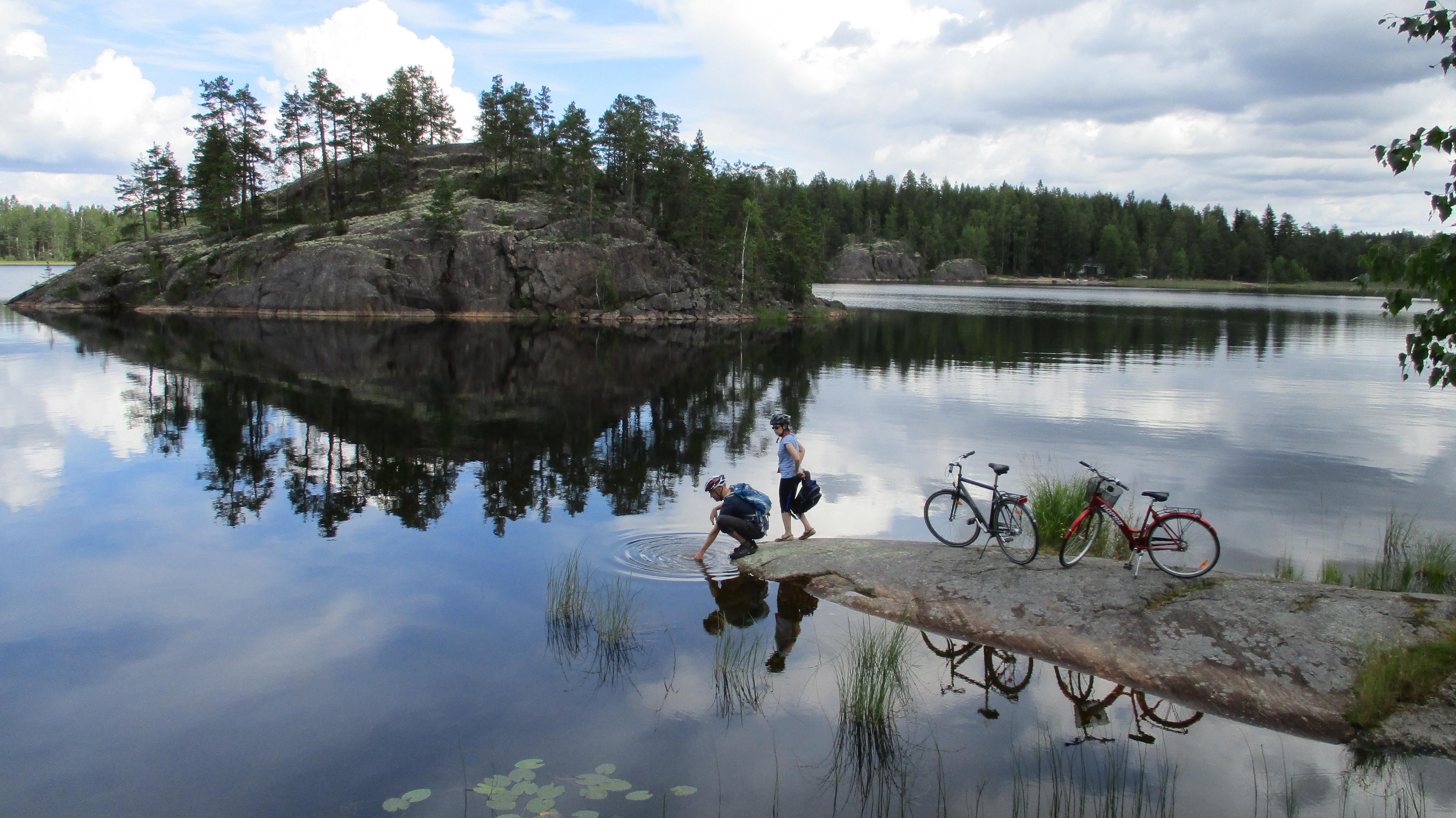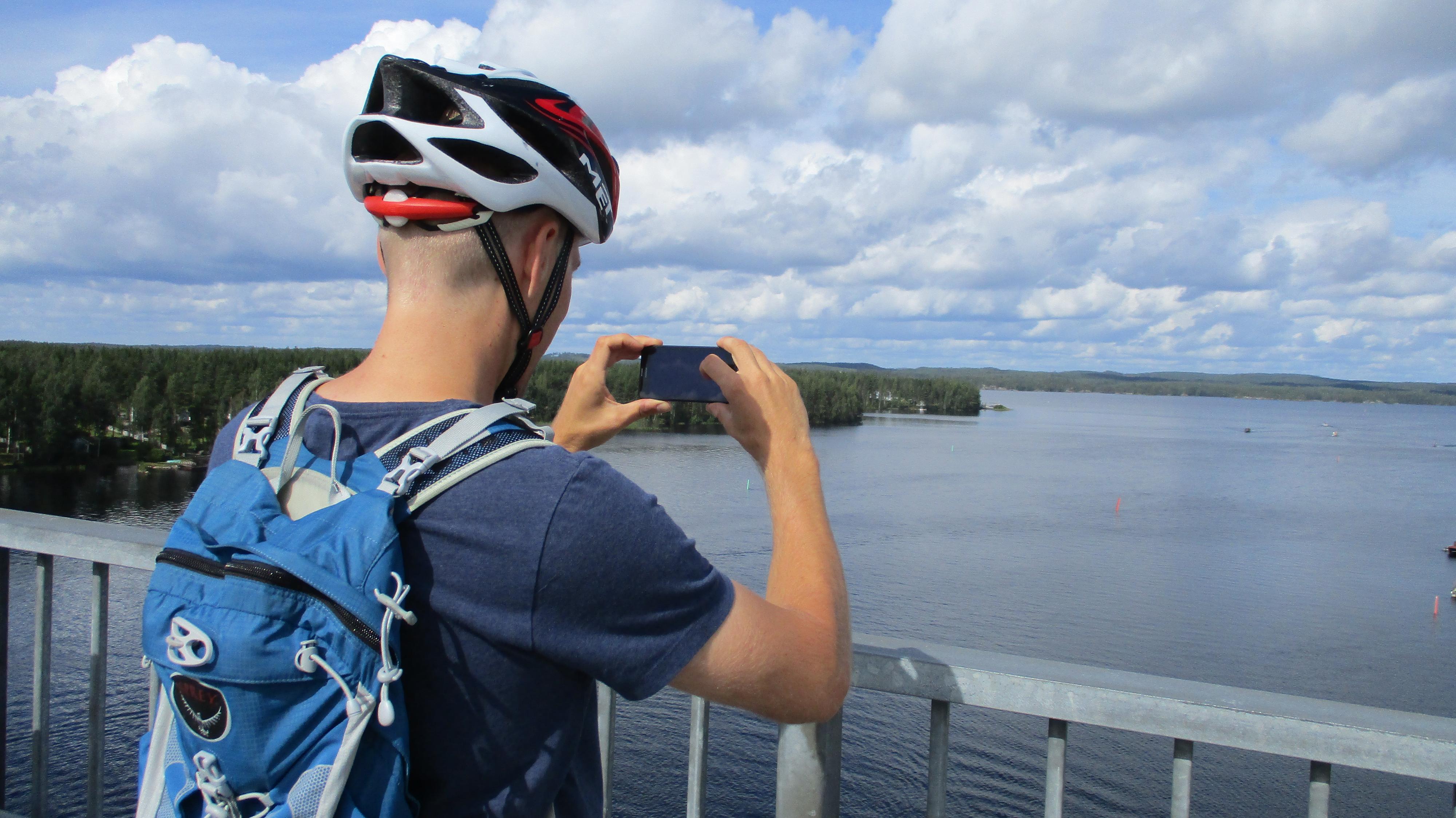 Puumala archipelago route
You'll complete the Puumala archipelago route by bike in a day, or two or three – it's up to you. There is much to see along the way, and you will also come upon good cafés and restaurants. Also accommodation is available. A bike ferry Norppa II will take you over the lake on that section of the route that cannot be accessed by road. If the timetable of the ferry doesn't suit you, you can take a boat taxi from Nestorinranta.
You can experience all this along the way:
60 km of cycling – or more, if you prefer
2 trips on a ferry, 40 minutes
Causeways
Bridges
Beaches, cliffs
Stories about Nestori and the rare Saimaa ringed seal, Lintusalo
If you are lucky, you'll see the seal (best time is in May)
The Säkkimäki lean-to
The archipelago village of Niinisaari
Beautiful parish village
Scenic cafés and restaurants
Geosites of Saimaa Geopark
The Hurissalo village shop
Puumala Archipelago Tour by Bike – Sleep at Nestorinranta
3 days, 2 nights, from € 103 / person
This route is one of the most beautiful cycling routes in Finland. The road passes by many interesting places along the coast of Lake Saimaa. You will find several bridges and causeways, as well as one short and one long ferry trip, along the route. The cycling distance is 60 km's. There are also many restaurants, cafes, geosites of Saimaa Geopark and other services on this route. You will be accommodated at Nestorinranta, where we will provide you with a bike along with other services as well.
1st day
From 4 pm booking to Nestorinranta, accommodating, supper on your own, wellness paths, relaxing
2nd day
9-11 am breakfast in Cafe Nestori (if you prefer an early breakfast, you can have a soup lunch before the start; the lunch is not included in the price of the tour; between the meals you can explore the wellness paths of Nestorinranta if you didn't do it already in the former evening)
12 start on the bike ferry Norppa II, Nestorinranta boat shore, duration 40 minutes
12:40 landing on the other side of the lake, Hurissalo, Kivisalmi – coffee / tea in the cafe Hurissalo Sale (not included in the price of the tour)
cycling towards scenic road Lietvesi, Pistohiekka – a visit to geosite Rakokivet – if you like
lunch in Pistohiekka (Mörkinahon kahvila) or in Sahanlahti (not included in the price of the tour) – a visit to the cave of Tupavuori, if you like
cycling towards Puumala village centre – a coffee break in the cafe of Soroppi, on the market or above the bridge (not included in the price of the tour)
cycling over the big bridge towards Nestorinranta through 11 islands and a short ferry trip in Hätinvirta
a break on Säkkimäki lean, where you can enjoy huge views over Lake Saimaa
in the evening arrival to Nestorinranta: dinner (on your own) , sauna, swimming, relaxing
3rd day
9 am breakfast in Cafe Nestori
After breakfast a small paddling trip on the lake on your own (if the weather is not too windy)
Lunch on your own or in Cafe Nestori (not included in the price of the tour)
Good buy!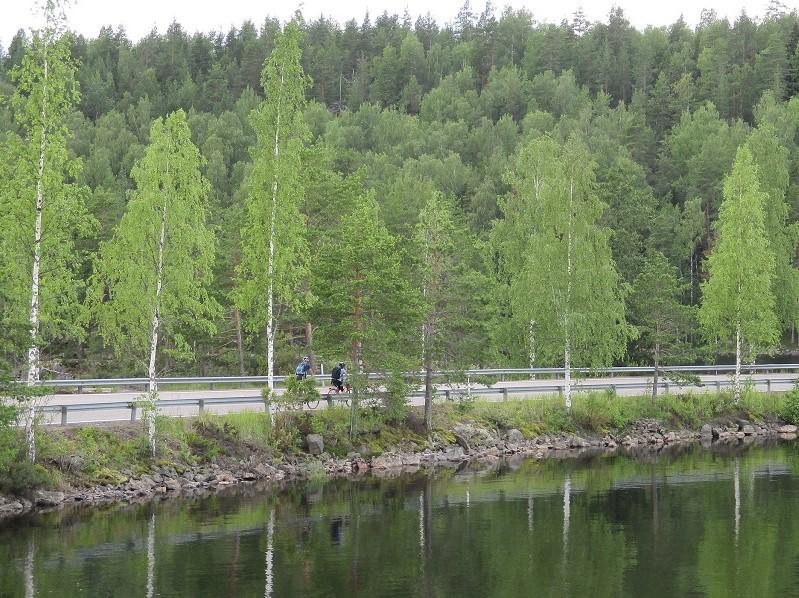 The price (from € 103 / person) includes
Accommodation (2 nights) in a twin room Mari or Ville
Shared bathroom and summer kitchen
Sauna
Bed sheets and towels
Breakfasts
A possibility to use BBQ and camp fire place
A bike with 7 gears and a helmet
An Indian canoe for 2 hours
A ticket for bike ferry
Available for extra price
Accommodation in a single room with shared bathroom and summer kitchen
Accommodation in a twin/double room or cottage with own bathroom and kitchen
See the variants and prices
An e-bike
Foodstuff according your wishes to your fridge
A boat taxi, if you make the tour in such period when the bike ferry is not available (the ticket of the ferry will be diminished from the price)
You can also use more days to your trip. There are many things to see and on the way there are several places where to accommodate.
We'll be glad to help you to plan a marvellous trip for your holiday. Take contact info@nestorinranta.fi, +358 40 510 6208.
Saimaa Archipelago Tour by Bike
5 days, 4 nights from € 590 /person
A marvellous cycling tour with guided hiking, paddling, boating etc. in the awesome and wonderful landscape of Puumala archipelago.
Transport for cyclists across Vetojako
From spring till autumn, we transport cyclists from Lintusalo to Lamminniemi in Hurissalo, and in the opposite direction. Depending on the weather, the boat will be either an open cruiser (Faster) or a canopied Finnmaster, which can both hold 2–3 cyclists. The boat ride is 7 km long and takes 15 minutes.
We can also transport cyclists to other locations by separate agreement. See the prices.
You should book the transport well in advance as the boats are also used for other purposes.
(Tel. +358 (0)40 5106208; info@nestorinranta.fi).
Other cycling locations
Shorter cycling trips can be taken from Nestorinranta to, for example, the Säkkimäki lean-to, the Telkonniemi giant's kettle or Niinisaari Island, where you can visit a winery, smithy, farm museum and gallery, and enjoy exquisite food in archipelago restaurant.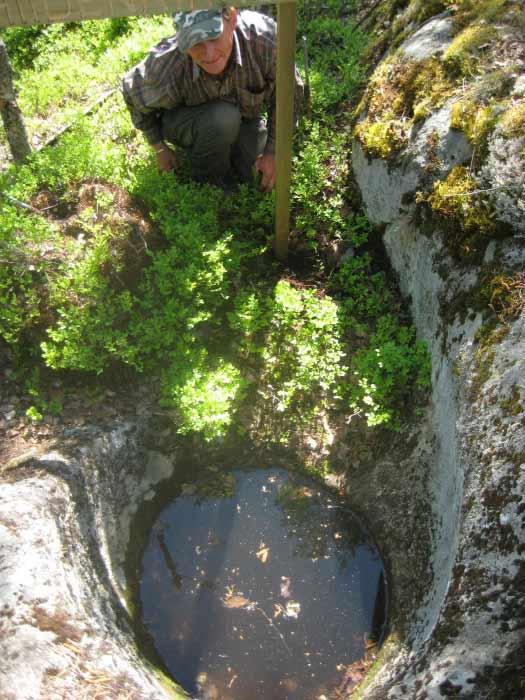 Telkonniemi giant's kettle
A natural formation created by rocks that have been moved around by water over millennia.
Signposts lead to the location from Repolantie road in the southern part of Lintusalo.
Approx. 10 km from Nestorinranta.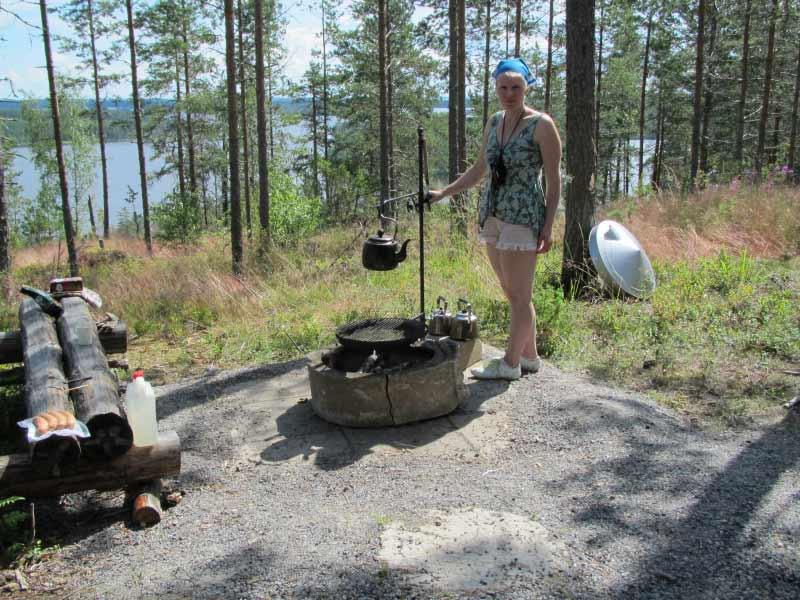 Säkkimäki lean-to
Highest point in the archipelago
Excellent view of Lake Saimaa
Lean-to and campfire spot, logs
Signpost "laavu, 300 m" on Lintusalontie in Liimattala
Approx. 7 km from Nestorinranta.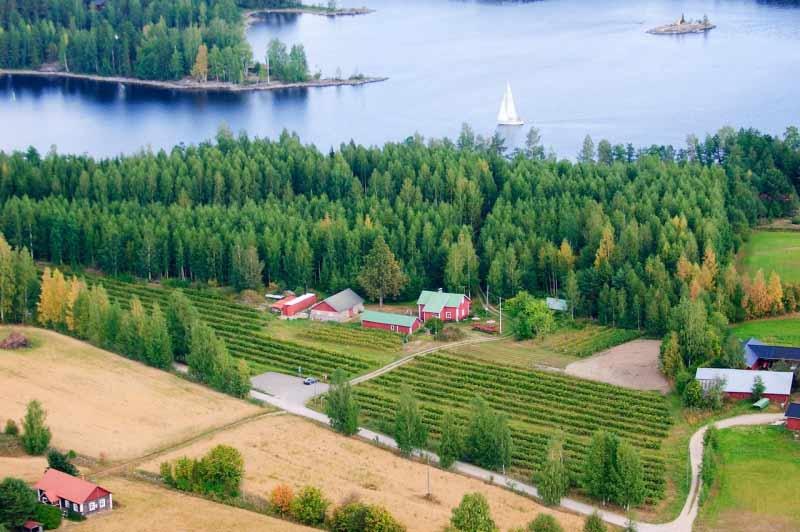 The archipelago village of Niinisaari
Flea market (Lintusalontie 198)
open in summer
near the ferry
about 15 km from Nestorinranta